Why Choose Seattle Automotive Distributing?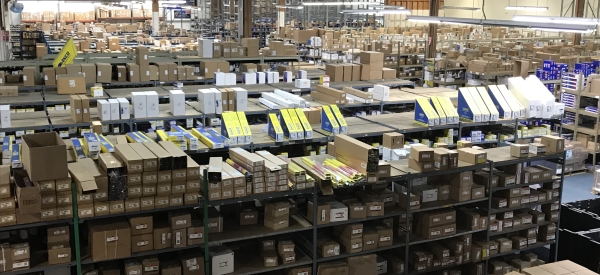 More profit for you. We offer OE parts in ACDelco and Motorcraft. We have tier one OE suppliers in Denso, Akebono, Bando, and KYB. No other warehouse in the NW offers so many OE parts both foreign and domestic. This means you get parts you can trust to do the job. They fit, and they work. It also means that the warranty rate is the lowest of any parts you can sell. Fewer comebacks mean more profit for you.
SAD has invested in your local area. In fact we have millions of inventory dollars invested in seven warehouses on the I-5 corridor in Western Washington. This means fast delivery or "will call" available at your local warehouse. Some of our competitors simply ship from one central warehouse. It saves them a lot of money, but it makes "will call" or 30 minute deliveries impossible. Faster deliveries mean more profit for you.
Our lubricant program brings you the finest names in the industry. ACDelco, Dexos, Mobil 1 and Motorcraft. We offer these fine products at prices you can afford. When your customer asks what brands you use in their cars, you can be proud of these products. Better oil at a great price means more profit for you. Because of our OE affiliations, SAD offers truly world class training. ACDelco, Motorcraft, and Denso offer the best technical training available with access to the latest information. Well trained techs mean more profit for you. We have painstakingly built the best line card in the NW. We have concentrated on the very best aftermarket parts to compliment our OE brands. One look at our line card demonstrates our ongoing commitment to quality auto parts & associated products for our customers. Our decision to stay out of the retail business means we can spend full time providing the parts technicians are confident installing. Better parts mean more profit for you. The ACDelco Professional Service Center program gives you the ability to offer your customers free roadside assistance as well as a national parts and labor warranty. It also gives you access to free ACDelco training and can even pay you to be part of the program. A great warranty and free training means more profit for you.
Just because we're dead serious about being the best parts distributor in the NW doesn't mean we can't have some fun in the process. Every year we sponsor great promotions that build on our relationship with you- our customer. This year alone we are putting together a fantastic vacation in Hawaii. (We just got back from Cabo san lucas in March).Our Great Camaro Give Away for our Professional Service Centers will take place at our annual Open House on July 19th, where we will also be giving away thousands of dollars worth of door prizes! Our banquets and monthly promotions are legendary and get better every year. And next year we will be giving away a 2013 GMC pickup.Why do these extra programs? Because we're family. We are family owned. Our employees are family, and most importantly, our customers are family. We promise to work hard to keep you (our customer) on top as the "The Best Automotive Repair Shops in the Northwest."
Download the appropriate application below.