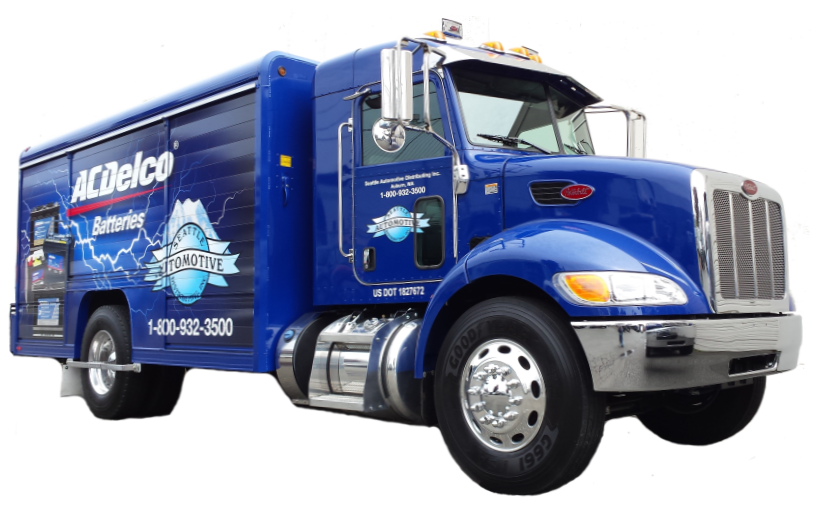 About Us
Seattle Automotive Distributing, Inc. has been locally owned and operated since it's beginning in October 1983. We currently have six warehouse locations; Tacoma, Lynnwood, Olympia, Auburn, Bremerton and Bellingham. We serve independent repair shops, business and government fleets and dealerships with our own fleet of 85 vehicles and 125 employees throughout the Puget Sound. We have an extensive line card featuring Original Equipment auto parts and associated products that are kept current with newly available items. Our line card covers numerous original equipment manufacturers and high quality aftermarket products to serve our customers. We believe in providing the best quality product that helps our customers and their businesses with fewer comebacks and warranty issues due to faulty parts.
---
Our Mission
"To be the best provider of high-quality automotive parts and related support services to our customers."
We will accomplish this while increasing the effectiveness of our employees within a rewarding environment; building relationships with customers to meet their needs; creating new programs to assist in selling quality parts and services; and conforming to Seattle Automotive policies and prescribed business ethics, while meeting or exceeding corporate performance goals. We will grow as we remain service and quality oriented. Seattle Automotive provides a full range of automotive parts and services to its customers – private repair shops, fleets and dealerships – located throughout the Northwest.
Seattle Automotive Distributing belongs to the following associations:
---
The History of Seattle Automotive Distributing, Inc.
The company's first location was on 7th and Westlake Avenue, downtown Seattle – "in the afternoon shadow of the Westin Towers". The customers we serve are independent repair shops, dealerships, fleets and jobbers.
Seattle Automotive Distributing was founded by Paul TeGantvoort, who had worked as parts manager for some of our local GM dealerships over the years. The major product lines carried at the time were AC Delco, Bendix, FelPro, A1- Cardone, Federal Mogul / Sealed Power and a few others.
We rented a portion of the Huletz Auto Electric building for $4000 a month. In 1985 Huletz sold the property and the new owners wanted $12,000 a month – needless to say we were scurrying to find our own location.
Paul and his wife Karen found a building in China Town that used to be a dry cleaning laundry business. It took them and a host of other willing and hard working people four months to gut the building and get it set up for stocking the inventory. The old building is still standing and is full to the gills of parts and old automotive memorabilia hanging on the walls.
In 1989 Paul bought Gilchrist's paint shop building in Tacoma and started adding on to it to make a bigger warehouse, add to our delivery territory and a new team of people working at SAD.
In 1991 we opened a location in Everett/Lynnwood and it wasn't long after that the Olympia, Auburn, Bremerton and Bellingham warehouses were opened. Auburn is the largest and is the distribution center for the other 6 warehouses. Our offices and main counter/call center are now located in Auburn.
We currently have 12 people who have been with the company over 15 years, and 49 who have worked over 6 years. We pride ourselves in being a fun and family orientated place to work and that happy employees make happy customers.
Over the years we have had many memorable events for our customers and employees such as our Annual Open Houses that all customers are welcome to come see our product line-up, have good food, enter into a hot rod trophy contest and always great prizes. Other events were Seafiar Hydroplane races, Wild Waves Picnics, NHRA races and AC Delco and Seattle Automotive sponsored first class vacation trips to beautiful exotic locations.